NOTICE: This website is no longer updated.
If you have questions about previously published Ontario COVID-19 Science Advisory Table resources, please email communications@oahpp.ca.
OUr Partners.
Informing Ontario's response to COVID-19
---
CanCOVID
CanCOVID is an active network of researchers, academics, patient partners, decision makers, and industry partners dedicated to an evidence-informed response to the COVID-19 pandemic. CanCOVID's purpose is to support the scientific effort and community in their work through encouraging multidisciplinary collaborations and helping to connect people and resources to enable rapid knowledge mobilization and science-to-policy action. They are also committed to helping to provide their government partners with a better line of sight to existing and emerging COVID-19 science and research.
Read more on the CanCOVID website.

Evidence Synthesis Network
The Evidence Synthesis Network (ESN) is a collaborative COVID-19 response initiative by Ontario's research and knowledge production community. We aim to enhance collective impact, reduce duplication, standardize products, and foster collaboration in order to streamline the processing of getting evidence on COVID-19 issues and questions to the people who need it.
The ESN is comprised of prominent organizations in Ontario's evidence synthesis and knowledge translation community. We collectively provide high-quality, relevant, and timely synthesized research evidence about COVID-19 to inform decision makers as the pandemic continues.
The Network accepts questions on COVID-19 from decision-makers in government, agencies, and the broader health system who require scientific evidence, jurisdictional scans, and promising innovation scans.
The ESN is co-chaired by Anne Hayes, Director of the Research, Analysis and Evaluation Branch of the Ministry of Health, and Rob Reid, Chief Scientist of the Institute for Better Health and Senior Vice President, Science, Trillium Health Partners.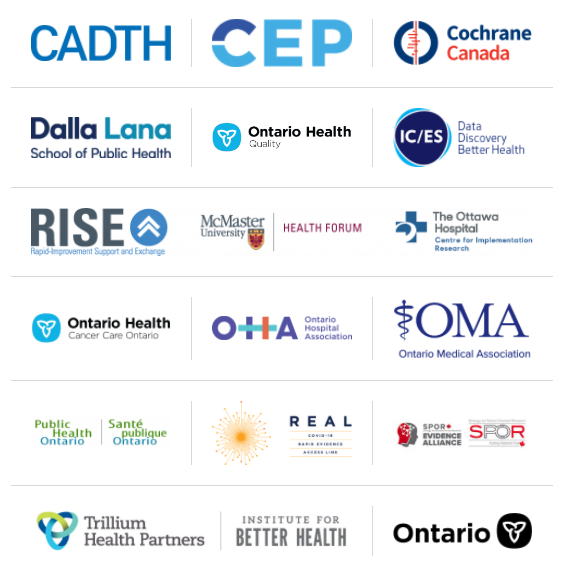 Modelling Consensus Table
The Ontario COVID-19 Modelling Consensus Table is a group of scholars and professionals who are using advanced modelling methodologies to generate estimates around incidence, prevalence, and the spread of COVID-19 in Ontario and its impact on health and the health system.
The Modelling Consensus Table's objectives are to:
Offer best possible guidance to decision-makers and health system leaders about the dynamic and evolving state of the COVID-19 pandemic in Ontario including;
Leverage the latest knowledge and advances in techniques and data sources;
Rapidly fulfill related data needs from data partners across the health system;
Rapidly respond to a prioritized list of research questions that can support the current fight against COVID-19 in Ontario;
Leverage the collective analytic expertise of the Ministry of Health, Ontario Health, and Public Health Ontario, along with scholars and experts working on COVID-19 models.
The Modelling Consensus Table works with the support of the Ontario Ministry of Health, Ontario Health, and Public Health Ontario.
Leadership
David Earn

CASM, MSc, PhD

Chair Professor of Mathematics, Department of Mathematics and Statistics, McMaster University

David Earn is a Professor of Mathematics and the Faculty of Science Research Chair in Mathematical Epidemiology at McMaster University. His primary research interests are in infectious disease dynamics, from the time of the Black Death to the present.

He was an undergraduate in mathematics at the University of Toronto, and received his PhD in theoretical astrophysics from the University of Cambridge, where he was a Commonwealth Scholar and held an Isaac Newton Studentship. As a postdoctoral fellow in Cambridge and Princeton, he shifted focus to biological problems, especially the epidemiology of infectious diseases.

He is a recipient of a CIHR New Investigator Award, an Ontario Premier's Research Excellence Award, and the Canadian Applied and Industrial Mathematics Society Research Award. He is a member of the executive committee of the M. G. DeGroote Institute for Infectious Disease Research at McMaster, and co-leads the Canadian Network for Modelling Infectious Diseases (CANMOD, https://canmod.net/).

Web site: http://davidearn.mcmaster.ca

---

Publications:

Declaration(s) of Interest:

John McLaughlin

PhD

Executive Director Professor of epidemiology at the University of Toronto's Dalla Lana School of Public Health Executive Director of the Canadian Partnership for Tomorrow's Health

John McLaughlin is a Professor of epidemiology at the University of Toronto's Dalla Lana School of Public Health, and Executive Director of the Canadian Partnership for Tomorrow's Health. He has more than 30 years of experience in leading interdisciplinary health research teams, as well as executive level management, knowledge translation, scholarly work and service. John provides senior leadership across the public health and health research systems, as he advises on strategic opportunities, emerging trends and partnerships to advance population health through applied research. John retired in 2019 as Chief Science Officer and Senior Scientist at Public Health Ontario, and he previously served as Senior Visiting Scientist at the International Agency for Research on Cancer, Vice President and Senior Scientist at Cancer Care Ontario, Founding Director of the Ontario Health Study at the Ontario Institute for Cancer Research, and Head of Epidemiology and Biostatistics at Toronto's Mount Sinai Hospital. His research programs integrate diverse approaches and disciplines in large-scale studies, aiming to improve disease prevention and health promotion. Trained as an epidemiologist at the University of Toronto (PhD) and Queen's University (MSc), his sustained research program has resulted in more than 300 publications.

---

Publications:

Affiliated with:

Declaration(s) of Interest:
Members
Observers
Sarah Nayani

PhD

Project Manager Project Manager, Fields Mathematical Modelling of COVID-19 Task Force

Sarah Nayani is the Project Manager for the Fields Mathematical Modelling of COVID-19 Task Force at The Fields Institute of Research in Mathematical Sciences. Sarah has over seven years health research and evaluation experience: as Evaluation Manager for the UK National Health Service, Research Coordinator at Public Health Ontario, and latterly, Research Manager in Infectious Disease research for Dr. Allison McGeer at the Lunenfeld-Tanenbaum Research Institute at Mount Sinai Hospital in Toronto. Sarah has worked on research studies funded by the Canadian Institutes of Health Research, the Built in Canada Innovation Program, and pharmacological studies and clinical tests.

Sarah received her doctorate in Post-war Recovery Studies and Political Science from the University of York in the UK.

---

Publications:

Declaration(s) of Interest:

Samantha Akingbola

Irena Papst

Andrew Blackburn

Ali Merali

David Naimark

MD, MSc, FRCPC

Associate Professor of Medicine, Faculty of Medicine, and Institute of Health Policy Management and Evaluation, Dalla Lana School of Public Health, University of Toronto

Dr. Naimark is an associate professor, Department of Medicine and Institute of Health Policy, Management and Evaluation (iHPME), and full member of the School of Graduate Studies, University of Toronto. He joined the Faculty of Medicine as a staff nephrologist at Sunnybrook Health Sciences Centre in 1997 with an interest in the epidemiology of chronic kidney disease (CKD). He holds a cross-appointment in the Institute of Health Policy Management and Evaluation at the University of Toronto. He developed the electronic medical record used at Sunnybrook which was used to develop the Kidney Failure Risk Equation, to predict progression to kidney failure from stage 3 – 5 CKD. The resulting work was published in JAMA, has been widely cited, converted into a smart-phone application, validated internationally, and is used to determine eligibility for multidisciplinary funding for CKD patients in Ontario. Dr. Naimark is an active member of the CKD Prognosis Consortium (CKD-PC), an international group of 45 databases containing 11 million CKD patients. He is director of the advanced decision analysis course at iHPME and has taught or mentored seventy graduate students with respect to sophisticated decision modeling techniques since his appointment. These computer simulations focus on individual persons or patients allowing for interactions of relevance for infectious disease transmission, competition for scarce resources and many other clinical and public health scenarios.

---

Publications:

Affiliated with:

Declaration(s) of Interest: