Key Message
As of June 12, 2021, over 7 million (more than 51%) Ontarians have been vaccinated with one dose of a COVID-19 vaccine and over 1 million (more than 12%) have received two doses.1
Most (76%) Ontarians report wanting to get a COVID-19 vaccine (Murty K, personal communication); however, getting vaccinated against COVID-19 requires more than motivation alone. A combination of capability, opportunity and motivation (key drivers of behaviour) are needed to ensure everyone who wants to get vaccinated, is able to do so.2 Of note, strategies to support these drivers of behaviour are not always available, or provided equally or consistently across Ontario.3,4
Behavioural science-informed strategies can address capability and opportunity barriers facing people who are already motivated to get vaccinated to get both doses of the COVID-19 vaccines. These strategies will be key to achieving the goal of a maximally vaccinated population. Among those with lower vaccine confidence (Murty K, personal communication), further addressing known motivation-related barriers can help support Ontarians in reaching the decision that is right for them. This includes leveraging trusted sources (such as health care professionals and community leaders) to address concerns about the speed of vaccine development and potential side effects, implementing supports to increase ease and opportunity for each dose, and employing effective communication (i.e., articulating when, where, and how) around available supports to enable capability and opportunity.
This brief is designed to complement and enhance existing vaccination rollout campaigns in Ontario. The intent is to provide behavioural science-informed insights into which strategies and policies can be leveraged to address multifaceted vaccination barriers, enabling Ontarians to get each dose. As vaccine supply continues to increase in the province, this strategy will accelerate Ontario's race to maximize immunity and support a post-pandemic Ontario.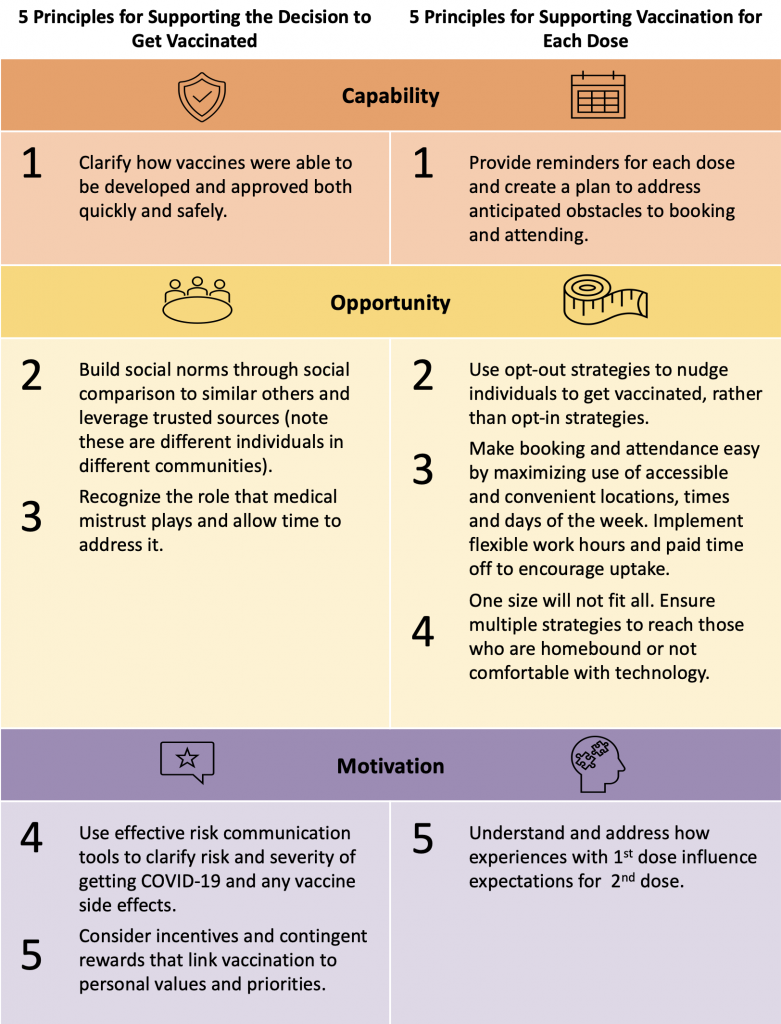 Background
Ontario is in the midst of its COVID-19 vaccination roll-out while also experiencing the third and largest wave during the pandemic. Behavioural science provides insight into the WHAT and HOW of operationalizing Ontario's vaccine response. Specifically, behavioural science can support the implementation of necessary strategies at the individual level (i.e., addressing vaccination motivation) as well as structural strategies that enable vaccine uptake (i.e., the capability and opportunity barriers that prevent vaccination).
Questions
What are known barriers and enablers to vaccination intention?
What are the known barriers and enablers to uptake of COVID-19 vaccines?
Which strategies are available to support vaccination intention and uptake of each dose of COVID-19 vaccines?
Findings
Barriers and Enablers to Vaccination Intention and Uptake
Vaccine Intentions in Ontario
Data from a survey of 18,482 Ontario residents aged 15 to 98 years collected from December 9, 2020 to March 15, 2021 (after Health Canada began approving COVID-19 mRNA vaccines) showed that 76% intended to get vaccinated against COVID-19. This rate has remained consistent over time.2 While the majority of Ontarians intend to get vaccinated, reported intention varies across jurisdictions (from 72% in Toronto to 88% in Ottawa), age (82% for those aged 55 years and older), and annual household income (from less than 70% in households with an income under $15,000 CAD to 84% in households with an income from $90,000 to $110,000 CAD). While the majority of Ontarians (71%) self-identifying as racialized reported intending to get vaccinated, this rate was lower than the overall vaccination intention (76%) across the province. Less than 60% of respondents from households with at least four people unable to work remotely intend to get vaccinated, compared to 83% when all household members can work remotely.
Barriers and Enablers to Vaccine Uptake
A living behavioural science evidence synthesis of factors associated with vaccination intention and uptake by Crawshaw et al. (May 2021) identified 66 studies (1 in Canada) that collected data after COVID-19 vaccines were approved.5 The review categorized factors according to capability, opportunity and motivation factors, and highlighted capability(knowledge), opportunity (social influences and environmental context and resources) and motivation (beliefs about consequences) as primary barriers. These specific barriers directly inform the principles outlined below for addressing vaccine confidence and uptake. A key capability barrier included lack of knowledge about COVID-19 vaccines. Meanwhile, COVID-19 vaccine acceptance and uptake were enabled by disease-specific guidance on vaccination safety. Opportunity barriers to vaccine uptake were shown to be effectively mitigated by seeing others like oneself being vaccinated and through healthcare provider recommendations to get vaccinated. Lower vaccine confidence was associated with "allowing others to be vaccinated first" (this could be due to altruism or due to safety concerns). Mistrust in the government and health institutions was cited as a barrier to vaccine acceptance, especially among racialized groups. However, most survey data available to date do not provide specific detail on barriers or enablers for specific groups.
Access issues also posed barriers to vaccination in terms of the amount of time required to book and attend the vaccination appointment, convenience of clinic location, and direct costs associated with vaccination.5 Motivation-related barriers to vaccination uptake concerned perceptions of the safety and efficacy of vaccines, including the belief that the development of COVID-19 vaccines was rushed, mistrust of the medical community, and suspicion of political or economic influence.6 Some were worried about adverse reactions, specifically contraindications, and held the belief that natural immunity was better.5
What has Worked Locally and Internationally
Israel's vaccine rollout demonstrated the value of leveraging community-based resources and infrastructure to expedite vaccine distribution.7 One-third of nurses in Israel work in community-based settings, and engaging this population alongside primary care physicians, trained emergency medical technicians and paramedics helped accelerate the vaccine rollout. In Ontario, primary care physicians administer most annual influenza vaccinations and could be engaged, along withnurse practitioners and other community-based healthcare workers, to connect with hard-to-reach communities and individuals. They are also a central resource in building vaccine confidence. The US expedited its own vaccine rollout by leveraging pharmacies and churches to enable easy administration.8 The Region of Peel applied similar principles in partnering with trusted community partners in places of worship (i.e., temples, mosques, gurdwaras) to establish and operate pop-up clinics to vaccinate its vulnerable populations — many of whom are immigrants and do not speak English.9 Peel also launched a 32-hour overnight vaccine clinic called "Doses After Dark" to increase accessibility to shift and other essential workers, with the aim of delivering more than 7,600 doses, including 4,939 doses administered during the overnight hours from 12:30 p.m. on Saturday, May 15 to 8:30 p.m. on Sunday, May 16.10
Strategies to Support Vaccination Intention and Uptake
Interpretation
Behavioural science helps us understand that Ontario's path to COVID-19 immunity involves multiple behavioural factors that can be effectively addressed if considered proactively. For some, logistics of the second dose have already been determined through pre-scheduling. For many, where and how they will receive the second dose remains unclear or challenged by the need for rebooking. For those who received dose one of the AstraZeneca vaccine, which vaccine they will receive for their second dose will require tailored communication in and of itself and weighing identified rare but serious side effects against the personal risk of COVID-19.11,30
Early efforts to distribute vaccine supply to increase opportunity highlight the value of such approaches and the importance of expanding the use of non-traditional distribution models moving forward to leverage community infrastructure and resources. These include strategies such as Peel Region's "Doses After Dark," outreach models to vaccinate homebound individuals, and arranging clinics in industrial areas or within high-occupancy workplaces.10,28
Evidence from other jurisdictions suggests that a substantial minority of those receiving the first dose are not returning for a second dose.31 Ontario should anticipate a similar pattern to mitigate its realization locally. Clarity on the need for and relative advantage of a second dose (i.e., long-term protection) as well as challenges to accessing the first dose (including logistical factors) may influence intention to get second dose. It is not a given that being offered the second dose – without any additional or different supports beyond those provided for the first dose – will lead Ontarians to follow-through with the full course of vaccination. 
Methods Used for This Science Brief
To assess current vaccination intention, we drew upon existing Canadian and Ontario data as of April 28, 2021 from national and provincial surveys, including the Field's Institute Survey (Murty K, personal communication). To report on vaccination uptake, we used the Government of Canada vaccine coverage reports  as of June 12, 2021.1
To address known barriers and enablers to vaccination intention, we used  a  behavioural science evidence synthesis by Crawshaw, Konnyu et al.'s (May 31, 2021)5 work collecting data on vaccination views post-vaccination approval, supplemented by Ontario-specific barrier/enablers from a representative provincial survey (Murty K, personal communication).
Finally, to identify strategies to enable and support vaccine uptake, we drew upon existing literature on strategies recommended and shown to be effective in increasing vaccination intention and uptake. This has included evidence syntheses produced by the Evidence Synthesis Network and Public Health Ontario, the WHO, and individual syntheses.14,32 We then used the Behaviour Change Wheel to map the identified barriers/enablers, to nine specific categories of intervention functions (i.e., change strategies) and seven policy categories (i.e., policy levers). This analysis has allowed the Working Group to suggest fit-for-purpose behavioural solutions supported by policy to address specific particular barriers and enablers to vaccination uptake in Ontarians.2
Additional Resources