Key Message
Internationally, people with disabilities have been disproportionately impacted by COVID-19, accounting for nearly 60% of COVID-19 deaths in the UK and overall higher mortality rates based on social, clinical, and demographic factors.
Ontario has prioritized people with disabilities across the three phases of its COVID-19 vaccination program, but there is a difference between availability and accessibility of vaccination. Ontario's 34 public health units are responsible for leading the local distribution and administration of COVID-19 vaccines, and their public facing websites serve as entry points for information on the accessibility of vaccination. On average, these websites contain information about 5 of 18 key accessibility features, across three domains: accessible communication, physical accessibility, and accessible social and sensory environments.
Ontario needs a multi-pronged strategy to reach all people with disabilities that includes improving information about communication accessibility, physical accessibility, and social and sensory environment accessibility throughout the COVID-19 vaccination journey. Ontario's progress on vaccinating people with disabilities needs to also be measured through enhanced data monitoring efforts.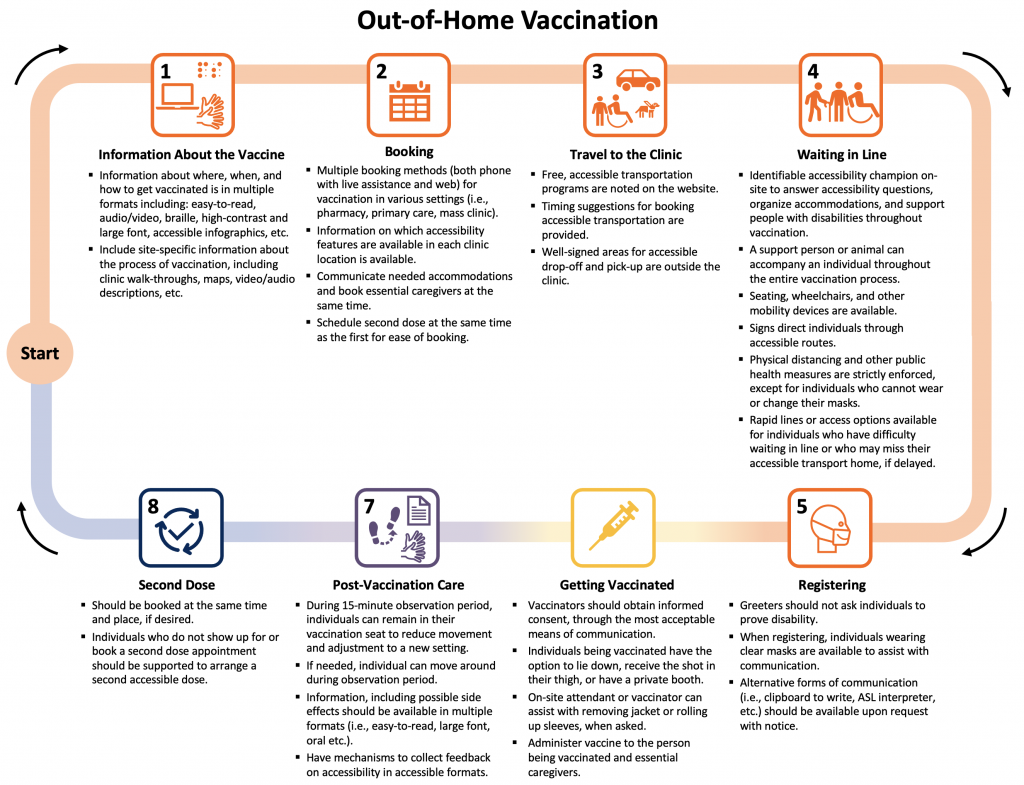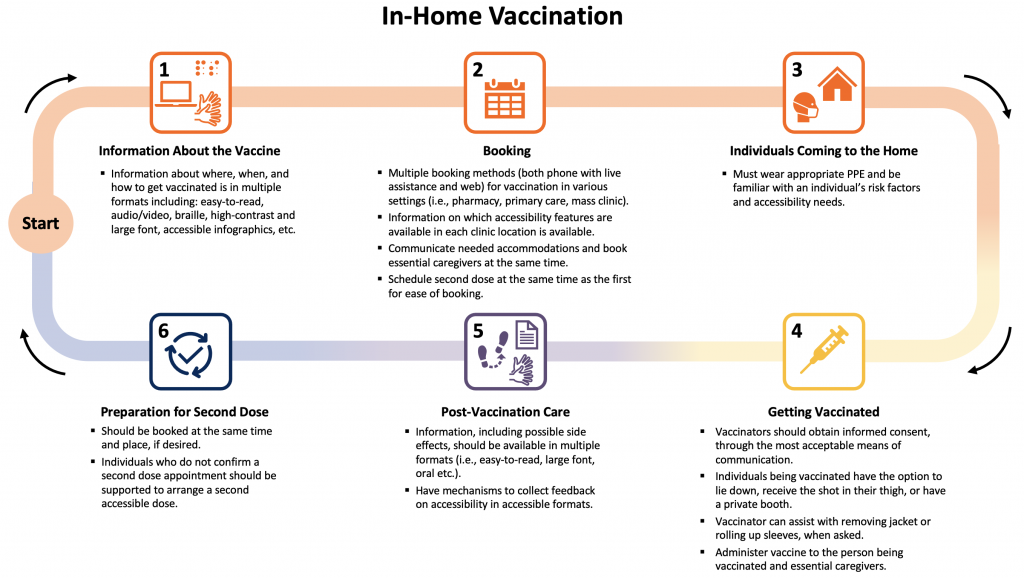 Summary
Background
One in five Ontarians has a disability — a physical, mental, intellectual, or sensory impairment — with the rate increasing to 40% of Ontarians over 65 years of age. A growing body of global evidence indicates people with disabilities have been disproportionately impacted by COVID-19. For instance, 59% of COVID-19 deaths in the UK occurred in people with disabilities, despite comprising 17% of the population.
While Canadian data are limited, there is a link between disability status and COVID-19 related hospitalizations and mortality. This has led Ontario and many other jurisdictions to prioritize specific groups of people with disabilities for COVID-19 vaccination. However, without supporting the accessibility and acceptability of vaccination, from providing information about vaccination the vaccination process to the actual vaccine administration, people with disabilities may face barriers in receiving their COVID-19 vaccine.
Questions
How have people with disabilities been impacted by COVID-19?
How have people with disabilities been prioritized in Ontario's COVID-19 vaccination plan, including for second dose interval exemptions?
What are the key considerations for making COVID-19 vaccinations accessible for people with disabilities?
What are the barriers to people with disabilities receiving the COVID-19 vaccine?
How can data monitoring on COVID-19 vaccination and disability inform accessibility initiatives?
Findings
International data suggest disproportionate impacts of COVID-19 on people with disabilities with a greater risk of morbidity and mortality as well as serious mental health and social impacts. Given these experiences, Ontario has prioritized many people with disabilities in the early phases of its vaccination rollout. Key considerations related to communication, the physical and the social and sensory environment can make vaccination more accessible for people with disabilities.
As a proxy for perceived and actual accessibility, a framework measuring 18 accessibility dimensions was developed and applied to review publicly available information on the websites of Ontario's 34 public health units (PHUs) as of May 7, 2021. While this may not be fully representative of all accessibility initiatives, it simulates the user experience in trying to get information about available vaccination accommodations. Overall, the website review identified multiple potential barriers, as the median number of accessibility dimensions listed as available was 5 of 18 (inter-quartile range (IQR) 4-6), or 28% of the identified dimensions. Only five of the PHUs had more than 50% of the identified dimensions, while nine of the PHUs had less than 25% of the identified dimensions publicly available online. In addition to having some of these accessibility features within mass vaccination sites, some PHUs have also developed more specialized clinics focused on vaccinating people with disabilities and have offered mobile clinics to certain individuals.
Ontario has yet to track and report publicly on COVID-19 vaccination rates among all people with disabilities. Using people with intellectual and developmental disabilities—one of the high-risk subgroups prioritized in Phase 2—as an example, recent data from ICES demonstrate the feasibility and value of monitoring vaccination rates.
Interpretation
Making Ontario's COVID-19 vaccination sites more accessible should build upon existing initiatives to improve communication-related, physical, and social and sensory accessibility at each stage of the vaccination process for all types of clinics. It is important to include all accessibility information in multiple formats on PHU websites to reduce barriers to vaccination, from booking to attending the vaccination clinics. Although accommodations may be available upon request, by phone or at specific clinics, if such information is difficult to access, this may prevent individuals with disabilities from pursuing vaccination. Accommodation request forms and other navigational supports at the time of booking and 'accessibility champions' on-site for every location can support people with disabilities in getting vaccinated.
PHUs can continue to provide and expand opportunities for acceptable and accessible care for people with disabilities at existing clinical vaccination sites, as well as through implementing more targeted approaches to reach people with disabilities, such as mobile in-home vaccination and specialized clinics. Collecting and publicly reporting data on vaccinations for people with disabilities can inform ongoing accessibility efforts.